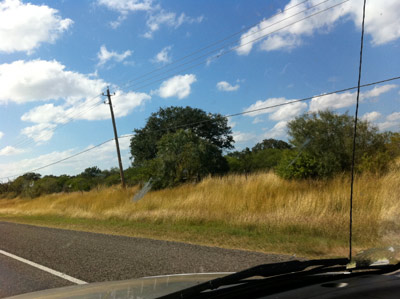 Caracaras flying over Rt. 77, as Texas oaks begin to change over to mesquite. #RGVBF I'm getting closer!
Sadly, vehicular massacre of Lepidopteran beings has begun.
Palm trees baby! So excited to be in Harlingen that I'm trembling! [might be the 32oz iced tea I drank]
This is so gonna be my FB profile pic for a while. [at the wickedly fun RGVBF opening reception]
Ruddy Ground Dove at Estero Llano. Yup. Starting this trip off with a lifer. [no photo of it, tho - it was to the right of this image. originally found by Jon Dunn.] [Refuge info: Estero Llano Grande State Park]
The @WBeditor quote of the day: "This doesn't suck." [fellow blogette Amy of Wildbird]
This bird, for example, does not suck. Ha or does it? Hehe hehe hehe he he. OK I obviously need a nap. [Common Pauraque - in the goatsucker family, for those who might not know]
Photo sucks, bird doesn't. I said "Why don't you flash your tail & show us your tips." Sounded all wrong. [White-tipped Dove]
Amazing sunrise over Rt 100 & listening to Kevin Karlson talk about shorebird structure. Not a bad way to wake up. [6 hours of great shorebirding ensued]
I held a Caracara. It was awesome. [www.raptorproject.com for more info]
Nice ode! Carmine Skimmer at Frontera Audubon in Weslaco, TX. [thanks Bob Behrstock]
Succumbing to the cute: Common Yellowthroat at Laguna Atascosa today.
Crested Caracara [there was so much there - 100's of thousands of shorebirds and ducks, great landbirds and raptors. Amazing amazing refuge: Laguna Atascosa NWR for more info]
[Green Jays at the Laguna Atascosa NWR feeders]
Going through RGVBF photos – OK, I admit that we three could be related [fellow blogette Sharon of Birdchick on left, me on right]
The possibly related @WBeditor and @Birdchick. [Amy on left, Sharon on right]
The habitats in the Lower Rio Grande Valley are incredible!
RGVBF sunset. [don't want to leave!]
There was so much depth to this festival – a myriad of amazing field trips and leaders, events, booths, and lectures. On top of all this, guaranteed amazing birding. I enjoyed myself thoroughly, even though I'm a bit of a lone birder, and too twitchy for festivals! Go!! I can't scream this loudly enough: GO!
Rio Grande Valley Birding fest info at: www.rgvbirdfestival.com